Beyond the Wall
Not Your Grandma's Paneling
Many features throughout my Streng Transitional home are rather Eichler-esque, so when it came to this partial wall in the living room, I wanted to add a bit of warmth by introducing some wood panels, similar to the Philippine mahogany used in so many Eichler homes from the '50s through the '70s. CA Modern recently featured an article all about these panels and how tastes have changed through the years.
There was a time when referring to wood paneling in home design sent one's mind into visions of a double wide trailer or a midwestern grandma's musty basement, but with the resurgence of mid-century design over the past 15 years, wood panels have become more desirable and appreciated.
Showcasing Original Beauty
Streng homes originally featured custom birch cabinetry, which was brought back to life in the first stages of my kitchen renovation. Because the kitchen is directly visible from the living room, I wanted to further tie the spaces together by incorporating a wall of birch panels. The main wall color throughout my home is Sherwin Williams Mindful Gray, which is a warm, soothing neutral. This color naturally pairs with the rich, nutmeg colors of the walnut-stained birch, while also coordinating with the variegated properties of the aggregate and stained concrete floors.
Putting the Work in
To my amazement, 4x8 sheets of birch veneer plywood were readily available at Home Depot -- a perfect match for my existing cabinetry. I cut the sheets to fit the wall, and attached them to the studs with finishing nails, which were counter sunk, filled with wood putty and lightly sanded. One tricky aspect of this project was cutting out the holes for outlets and switches. With some precise measuring, a jigsaw, and a little patience, everything lined up for a perfect fit. As in the kitchen, I used 2 applications of Varathane American walnut stain followed by 4 coats of Minwax tung oil, sanding with #0000 steel wool between coats.
Finishing Touches
To finish the top edge, I used a 1.5" flat trim moulding, and painted it to match the existing window trim, which gives a bright, crisp appearance.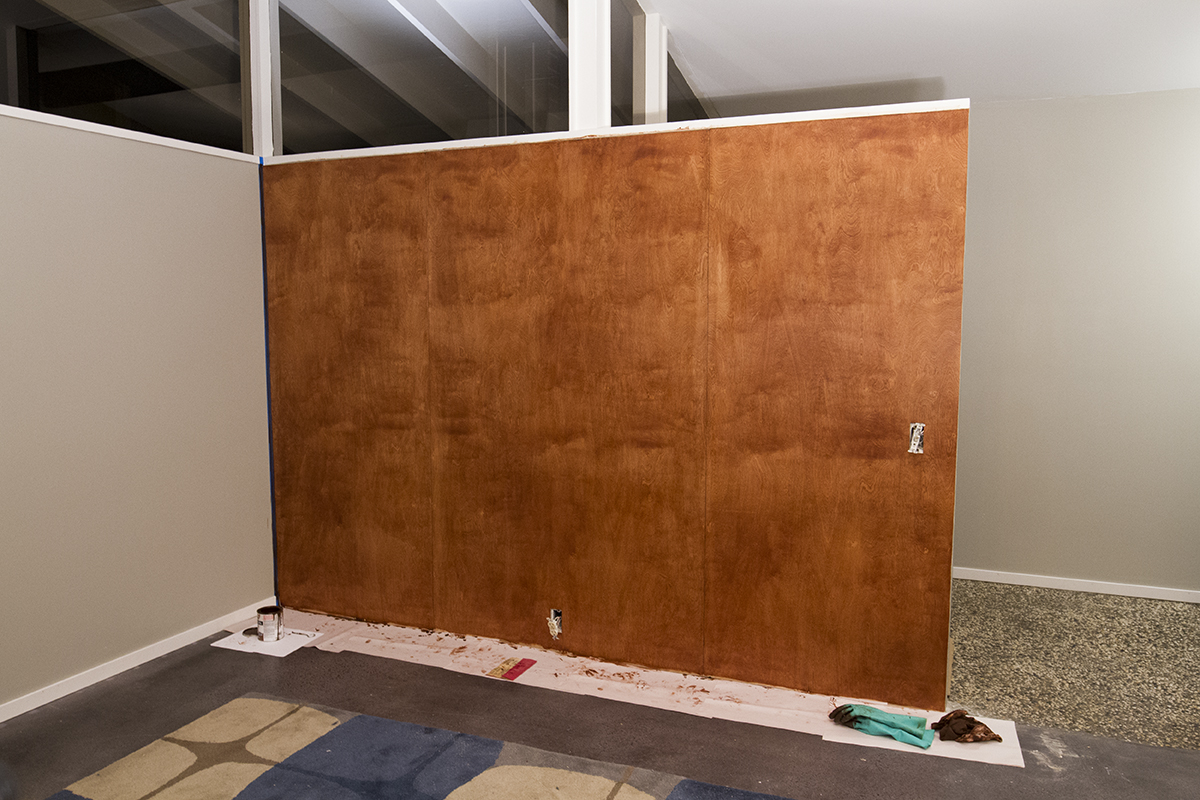 I found some amazing sculptural art at Target, aptly named "Mid-Century Metal Wall Art," which I modified with flat black spray paint and some hand-painted antique gold accents. I wanted to give a nod to Curtis Jeré...but at a heavily discounted price. Keep the tasteful wall art coming, Target!
With the sweat thoroughly poured into the wall behind me, I found time to sit back on the sofa for a bourbon, which was beautifully captured by the ever talented Travis Pacheco. This little enhancement makes a big impact on the space by adding a touch of period-appropriate color, warmth and texture. I now have a little Sterling Cooper-like drama added to my space, but without the office scandals and drunken riding lawnmower accidents.
Glen Warren