Say Hello to Stanley
Among my favorite pieces of furniture in the house is my Stanley dining room credenza. A credenza is an essential furniture item for any dining room and a necessity for anyone who entertains. This stunning piece is constructed of solid walnut and rosewood with quality crafted details at every angle.
The Stanley Furniture Company was founded in 1924, and continues to make beautiful furniture in Virginia and North Carolina today. For any mid-century enthusiast, Stanley is a must-see. Their designs from the 1950s-1960s were breathtaking. I don't come across many Stanley pieces when I'm shopping for furniture, but when I do, I have to pause to appreciate the beauty and craftsmanship every time.
Clever Construction
The cabinet doors feature inlaid vertical strips of rosewood that give a striking contrast to the adjacent walnut. The sleek look of the cabinet doors is attributed to the rabbet joint construction. These recessed grooves around the perimeter of the back of the doors allow them to sit on a flush plane for beautiful continuity that extends across the entire face of the credenza.
Inside the cabinets, there is plenty of deep and tall storage for extra barware, serving platters, punch bowls and oversized cocktail shakers. An adjustable shelf can be found on the left side.
Delightful Details
A nod to Danish modern design can be seen in the cabinet pulls. The recessed circle with inset handle is pure genius. This specially cut piece of rosewood appears to intersect right through the top and bottom of the circle, making for one continuous vertical stripe.
Dovetailed drawer construction and routed rosewood inlaid edge drawer pulls further enhance the level of quality in this piece. If that wasn't enough, the drawer fronts are constructed of gorgeous, warm burled walnut. You just don't find construction like this with many furniture brands of today.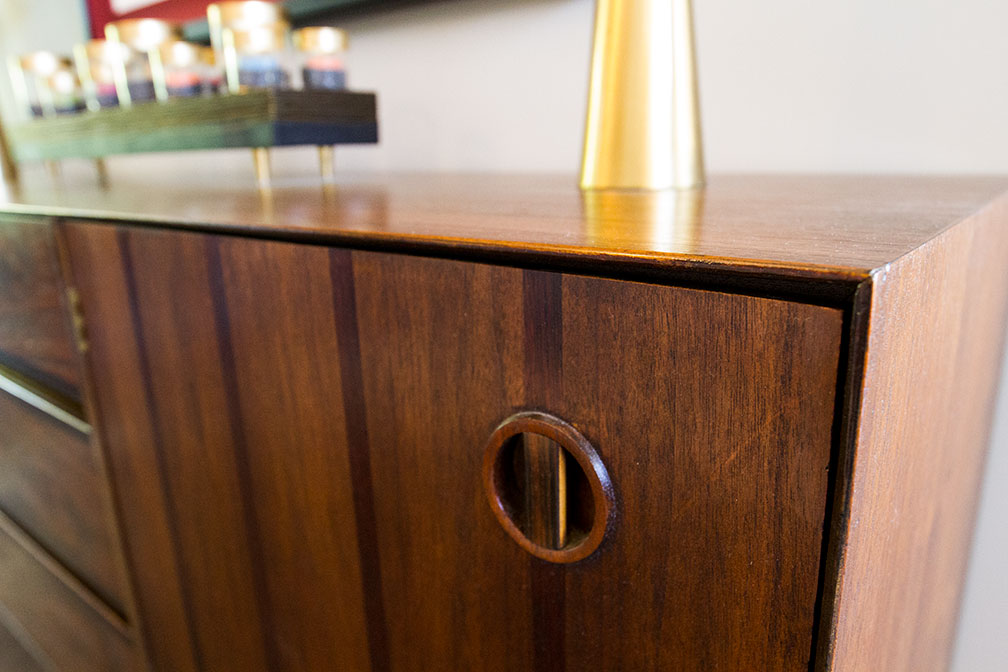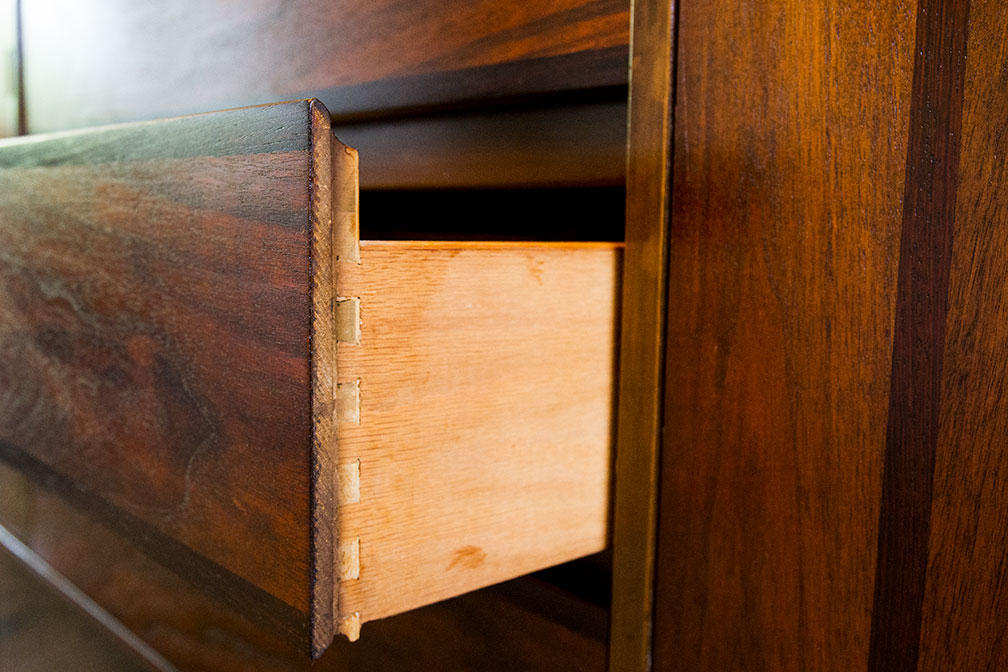 I scored this credenza for an absolute steal at an antique fair back in 2009. It had been lovingly restored when I found it, and I have since maintained it with an occasional coating of tung oil. If you're seeking a credenza for your space, you might consider Stanley's vintage designs. Their iconic, high-end quality is sure to last another lifetime.
Glen Warren