Tri'd and True
I always look forward to our rain season here in Northern California. The spring months bring snow to the Sierras, which replenish our waterways, and the air always smells so fresh and clean after a good downpour. We typically get at least one Pineapple Express storm in the spring, and this year was no exception. While I do find those annual events somewhat exciting, one particular storm in May brought down a stretch of my original tri stake redwood fence. Having withstood at least 44 severe weather seasons in its lifetime, I am amazed that it remained standing as long as it did.
Cutting Back
Once the storm passed, there was much work to be done. Picking up and disassembling the fallen fence was the starting point, but much work was required in other areas, too. Invasive grasses, spike plants, and an iron trellis all stood in the way and had to be removed. Neighboring vines and ivy had been allowed to creep over my fence for years, weaving their branches in and out of the tri stakes, several of which were on the ground or missing entirely. As I began cutting away the vines, I realized this would only be an uphill battle going forward. Once the new fence went in, invasive vines would continue to creep via this seemingly endless root structure. English ivy is the worst!
My neighbors were kind enough to agree that the ivy should go (along with their chainlink fence), and assisted me in removing it at the roots and disposing of everything at the city dump. I couldn't have done it without their help, and I'm so grateful to live in a community of such friendly people.
2 brimming truckloads of brush, a tangled web of chainlink, and a mound of concrete rubble later, I was able to actually see the remaining pieces of standing fence, making the installation of the replacement a lot easier for the construction crew.
Decisions, Decisions
When it came time to decide on a replacement enclosure, a few options were on the table. I originally thought a straight set concrete wall around my property would be the way to go. While it would provide a fantastic Palm Springs-like vibe, the exorbitant price tag and invasive groundwork required had me quickly abandon that idea.
When approaching any home renovation, I always like to consider what would have been done to the house originally. In this case, it would have been the redwood tri stake fence. I've found that being a purist isn't always the best option, but in this case, going original would be an excellent decision that would keep with the original character of the house.
I was also faced with the decision of redwood posts vs. steel. While redwood was more affordable, steel would last a lifetime, so I opted to pay a little more and enjoy the durability of steel posts for years to come.
The Right Height
Being at the top of the hill in Eastridge is one of my favorite features of this home. On most days, I have a clear view of beautiful treetops and blue skies, and I'm perfectly situated away from traffic noise. Most of my lot is flat, but the back corners have a slope that drops down to about 4 feet. The original fence followed this slope, angling downward toward the property line, which looked a little sloppy. I opted to carry the fence height of 7 feet straight across the yard, filling in the slope with a series of 2'x12' redwood kicker boards. This added a few hundred dollars in costs to the overall construction, but the end result is greater privacy and a clean, continuous line that stays in harmony with the bold lines of my home's architecture.
Dual Entry
Since moving in, I had been wanting a gate installed on the right side of my property. The gate on the left was great for accessing garbage bins, but to get to the right side of the house, I had to go all the way around with no convenient way out once I got there. By having a matching gate put in on the right, I now have full 360° accessibility around the entire home, which I'm finding especially helpful in conjunction with the front patio and dual sliders.
Paint it Black
The last step of the fence replacement was to get it painted. My goal was to create a clean, crisp backdrop that will allow future landscaping to really shine. Black Magic has worked so well for many features of my home's color scheme, including the divider screen constructed last summer, so it seemed like the obvious choice for tackling this project. To make up for some of the budget I splurged on construction, I saved on paint by using Valspar DuraMax. I was able to get it mixed to match my Sherwin-Williams swatch, and it's made for weather protection, including that inevitable Pineapple Express!
Now, there was no way I was painting every stake by hand this time around, so I invested in a mid-range sprayer, which ended up working brilliantly. Glen and I were able to get the entire fence painted in just a little over a day. The raw wood soaked up 10 gallons of paint, but I would have used twice that amount, plus rollers, brushes and other supplies -- not to mention days more of work had I done the work by hand. The Wagner Flexio 4000 was a fantastic tool for the job, and I will absolutely use it for future painting projects.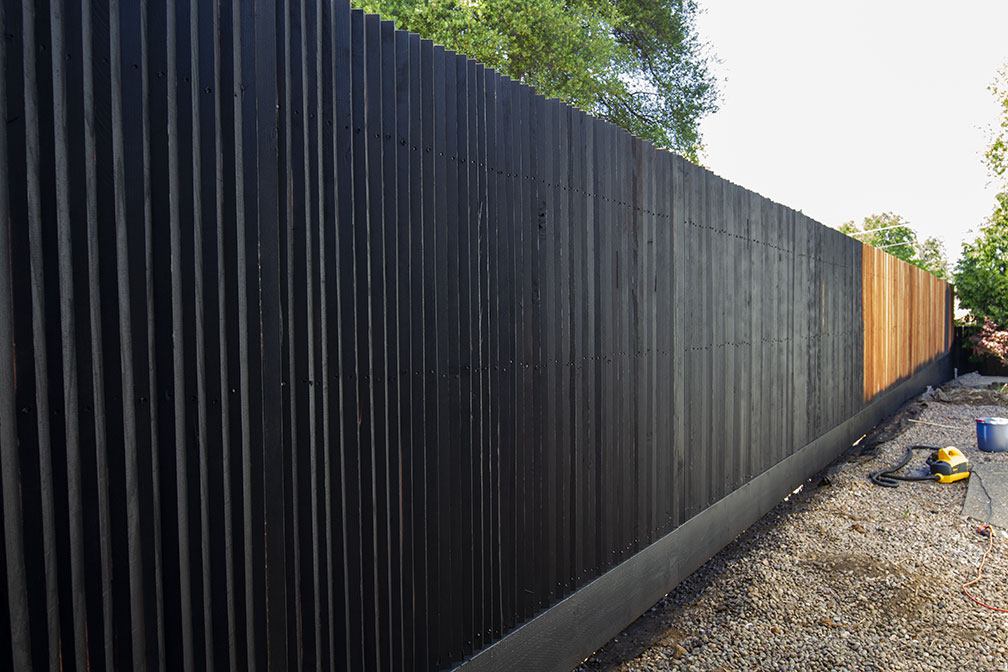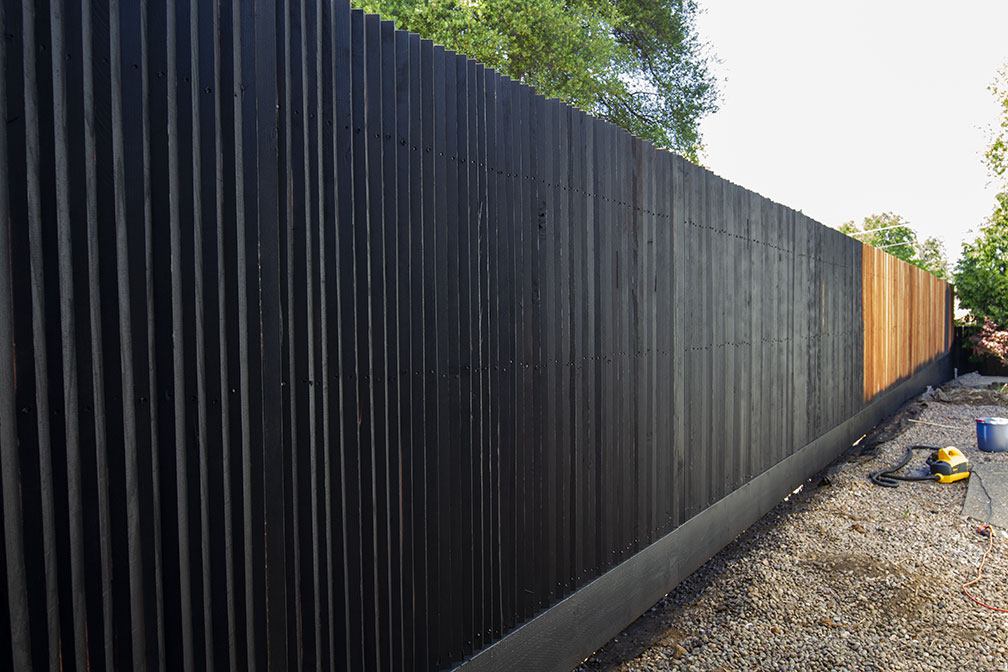 Stand-up Job
A quick shout out to my fence crew at Accurate Fence. They were a force to be reckoned with. I had prepped the area as much as possible to make things easy on them, but they were in and out of here in just 2.5 days. Given the 120+ linear feet of fence to install, their crew of 3 moved quickly and efficiently every step of the way.
With solid construction using steel posts, concrete, and pressure-treated redwood, I imagine this fence will be standing far longer than I'm able to.