Screening Process
Since moving in, I've faced some challenges with the shrubs that were planted in front of my home. The foliage of these California privet hedges provided some privacy for the front patio and sliding doors, but the trunks and roots had become surrounded with coast live oak acorns planted by neighborhood blue jays.
Coast live oak trees thrive in our climate, so dozens of these seedlings had rapidly sprouted roots around the shrubs, making an impossible tangled mess of winding trunks and spiny-toothed leaves. Apart from the root invasion taking place, the aesthetic of the privets didn't match the architecture of the house, and the messy, flowering stems and falling leaves had to go. I had the 6 shrubs cut down and the stumps ground so that I could start with a clean slate.
My plan was to construct a 24-foot privacy screen around the patio, allowing for a more useable outdoor lounge area. I mapped out posts for four 6-foot segments along the front of the patio, and two 7-foot segments along the side. Once I marked where I wanted the post holes, I called 811 to check for any utility conflicts. With my lawn thoroughly marked "no conflicts" in an array of colors, Glen and I were cleared to start digging holes. The soil here is mainly sand, which made for a pretty easy dig overall, but in post hole #1, we hit some random pieces of aggregate concrete, likely left over from construction. I worked my way through those with a few strikes from a long metal pole, but when I got to post hole #2, I hit some aggregate that I just couldn't seem to break through. I had Glen step in to strike the concrete a few times, and he got through! Oh, and he really got through. I heard a loud "ping" followed by Glen's words, "Oh no." Both of us were then standing over hole #2, looking down at an asbestos sewer lateral that had been broken through. We could see a little water passing through the pipe, but nothing was spewing out. If there was any upside to this, we had at least hit the pipe top and center, so we could continue to use plumbing inside the house.
Again, I called 811 to let them know I had hit a pipe, despite having "no conflicts." They returned to my property to let me know this was my private sewer line, which they do not inspect. Lesson learned: In addition to calling 811, ask for a copy of your utility plans as utility agencies take zero responsibility for any lines on your property. A segment of the asbestos pipe had to be replaced, which required me to dig a 3' x 3' x 4' trench. I then worked with Flowrite Plumbing to have the pipe cut and replaced. Jimmy and Jesse were outstanding, and both come highly recommended for their speedy, friendly and professional services.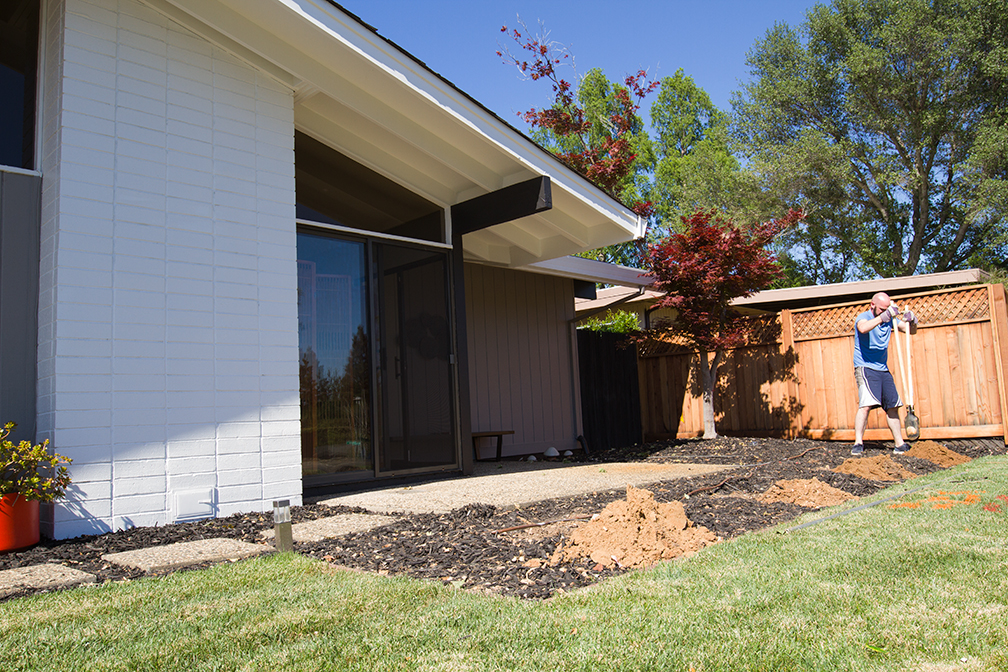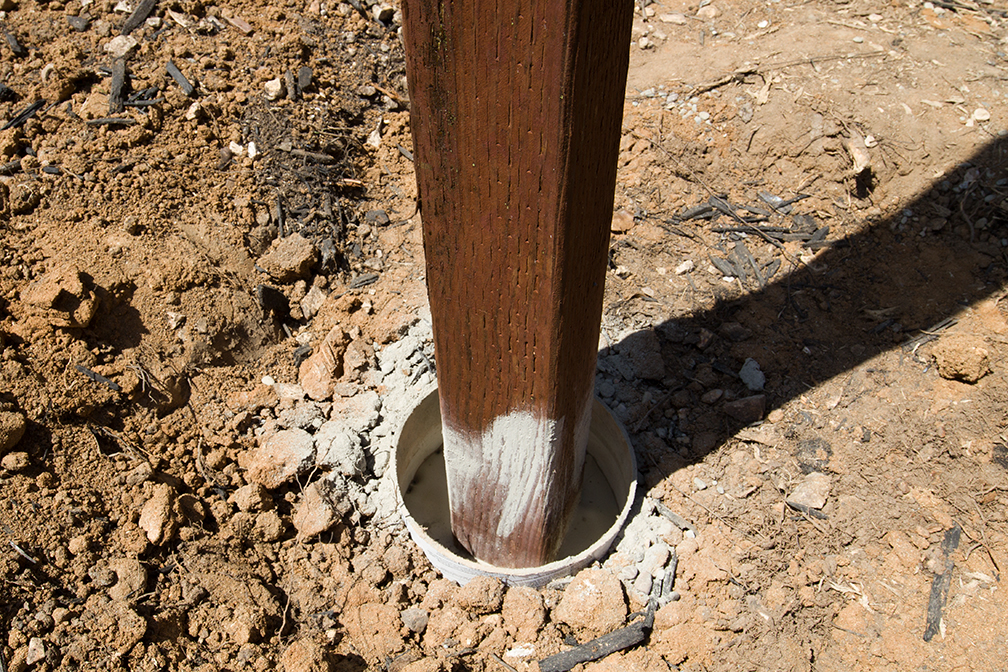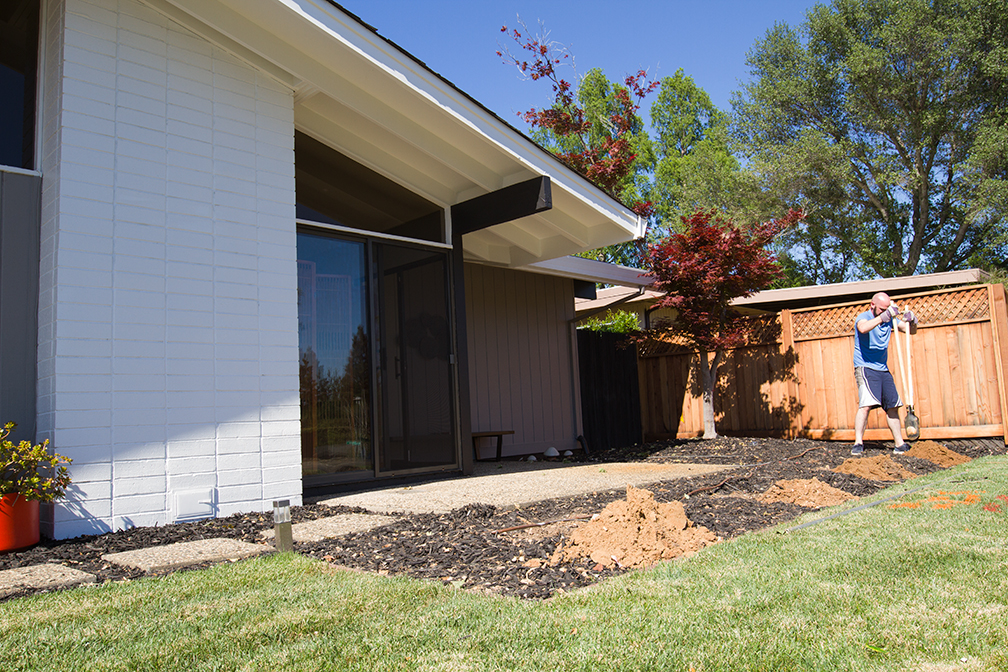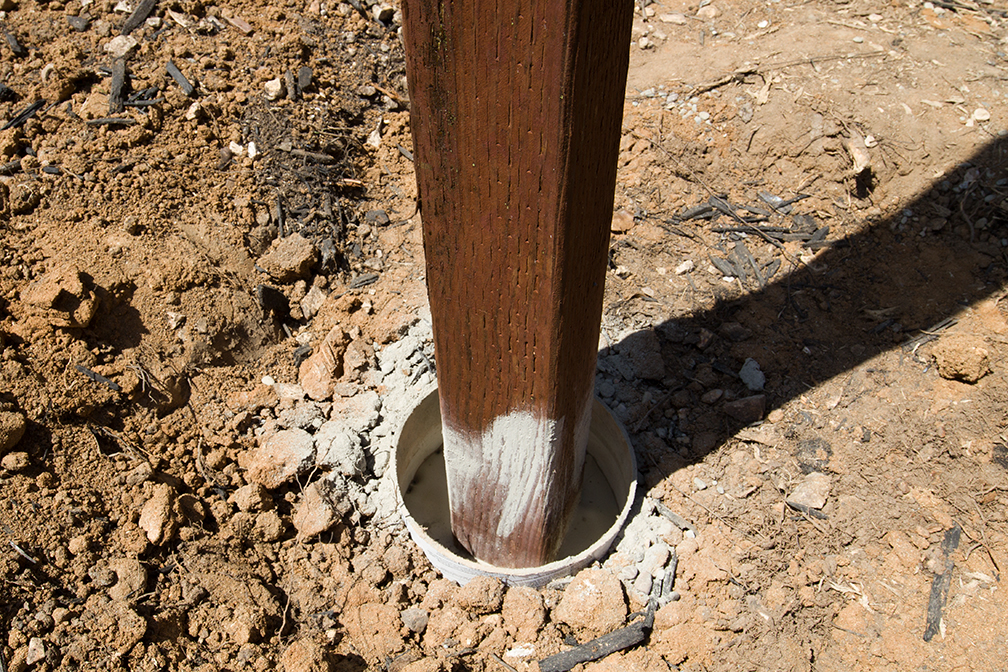 After 2 days of putting the screen project to a halt, I was back on track and able to continue building. We backfilled around the pipe with dirt, then covered it in a layer of pea gravel. To keep the concrete from encasing the pipe, we used a cylinder concrete form to secure the post. These extra measures required some additional planning and labor, but knowing that the job was done right is everything.
I purchased 4x4 redwood posts and 2x2 slats from Berco Redwood, and had them delivered right to my door. Glen and I powered through this project over the course of 2 days -- measuring, sawing, leveling like mad -- making up for the time lost in the pipe fiasco. Once we had all 126 slats screwed into place, we began painting to match the house's beams and accents.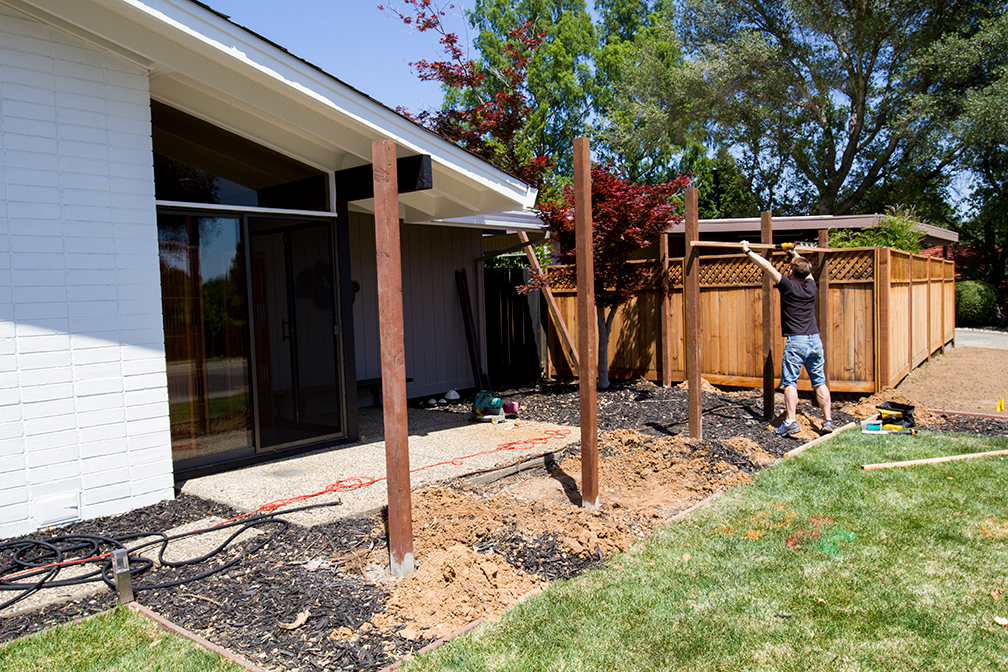 I left a 2-inch gap between the horizontal slats for a more airy, open feel. To maintain my intent for privacy, I attached a high-grade landscaping fabric to the back of the structure. This fabric was stapled along the edges, then snugly secured with tacking strips. I chose to keep the top 16 inches open without the use of fabric for a clear view of the front yard when standing.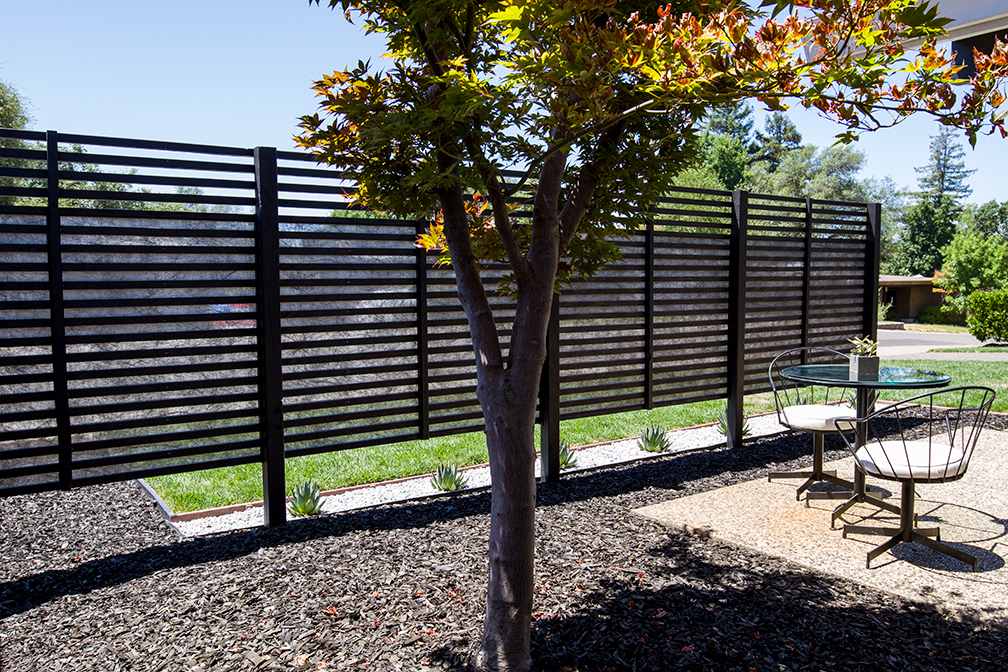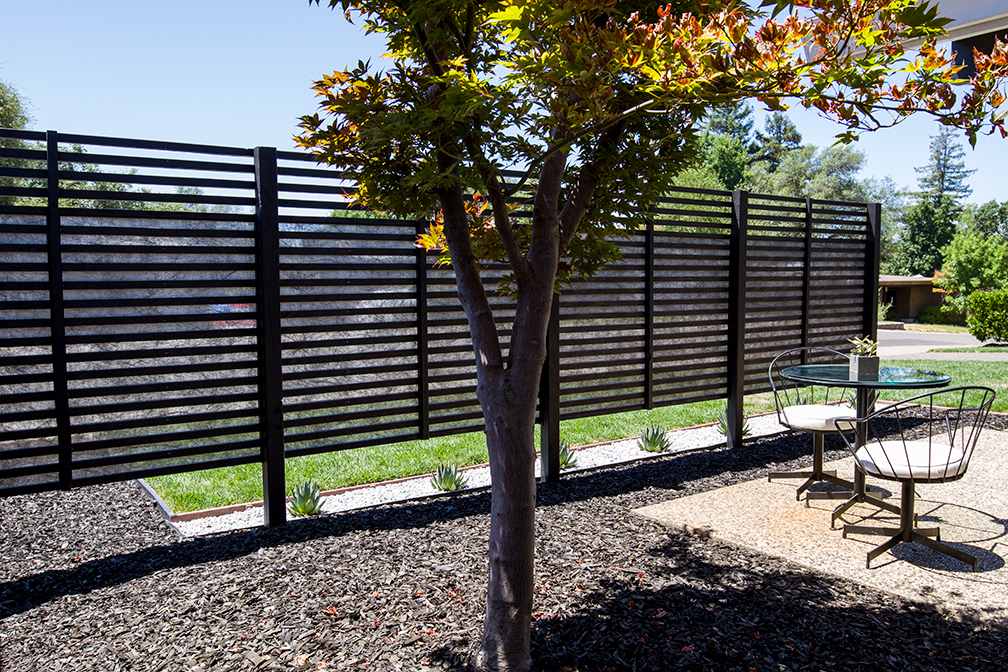 The area in front of the screen was segmented into a long bed where I planted 7 blue glow agaves. These plants can mature to several feet wide/tall over time, so I chose to plant them inside containers in the ground to control their growth. The warm, colorful edges of each leaf match the vibrant front door and Gainey planter. I also chose these plants because they are rabbit deterrent as their sharp, jagged edges keep creatures from gnawing on the foliage. For a clean, crisp contrast, I filled the bed with platinum mist decorative rock. Fine black mulch was used to surround the aggregate patio, pavers, and Japanese maple.
This project came with its share of challenges, but the end result is a quality, handmade structure that adds significant curb appeal and modern beauty to compliment my Streng home. The effort poured into this process will surely last for many years to come, but the immediate future calls for a cocktail in this newly formed outdoor lounge.
Glen Warren