Side Work, Part II: Paving the Way
They don't make aggregate like they used to.
My plan from the very beginning of the side yard project was to run a long line of pavers from the front to the back of the house to connect the two patio areas. I originally thought I would use 16" round aggregate pavers because they were easily accessible from local home improvement stores. However, when I went to purchase the pavers, they were rather hideous in person.
The colors in vintage aggregate tend to be warm and inviting with lots of variation and contrast, while today's aggregate looks flat, gray, cheap and just plain sad. I realize that aggregate concrete isn't necessarily the product of choice for today's average homeowner, but this beautiful texture created in the '60s-'70s was widely used in both commercial and residential design -- driveways, atriums, sidewalks, entire sides of buildings. Look around next time you're out and about!
With so much of this material used throughout my property, it was essential the pavers feel connected to the larger slabs. However, after scouring local stores and online, I was unable to find just what I was looking for. I decided to set aside the paver search for the time being, and put my focus on leveling the ground and laying ground cover as I had done for the adjacent cactus bed.
With a Little Help from My Friends
A few months back, my neighbor across the way was making improvements to her landscaping. She had completely replaced her lawn with new sod, and in the process, removed about a dozen square aggregate pavers that used to line her driveway. The coloring on these pavers was perfect as was the size. My guess was that they were poured at the same time our homes were built because the stones were an exact match to all of my concrete work.
I saw the stack sitting near the front of the house after the lawn had been put in, so inquired if she had planned to use them. Her initial answer was "yes," but after a few weeks passed she hollered out to me when I was mowing the lawn and said, "Those pavers are yours if you want them!"
I couldn't believe it! Apparently, her plans had changed, and I was 100% ok with this. 12 pavers weren't enough to complete my path, but it was a start. When I stopped by to collect them, she said, "I have a lot more on the side of the house if you need them. I'm not going to use them." To my amazement, there were 46 pavers in total, all stacked up and ready for the taking. There I stood, blown away by my neighbor's generosity and this breathtaking tower of concrete. I immediately loaded up the wheelbarrow, and got to work scrubbing the pavers. I couldn't be stopped now that my vision for the side yard would soon be fully realized!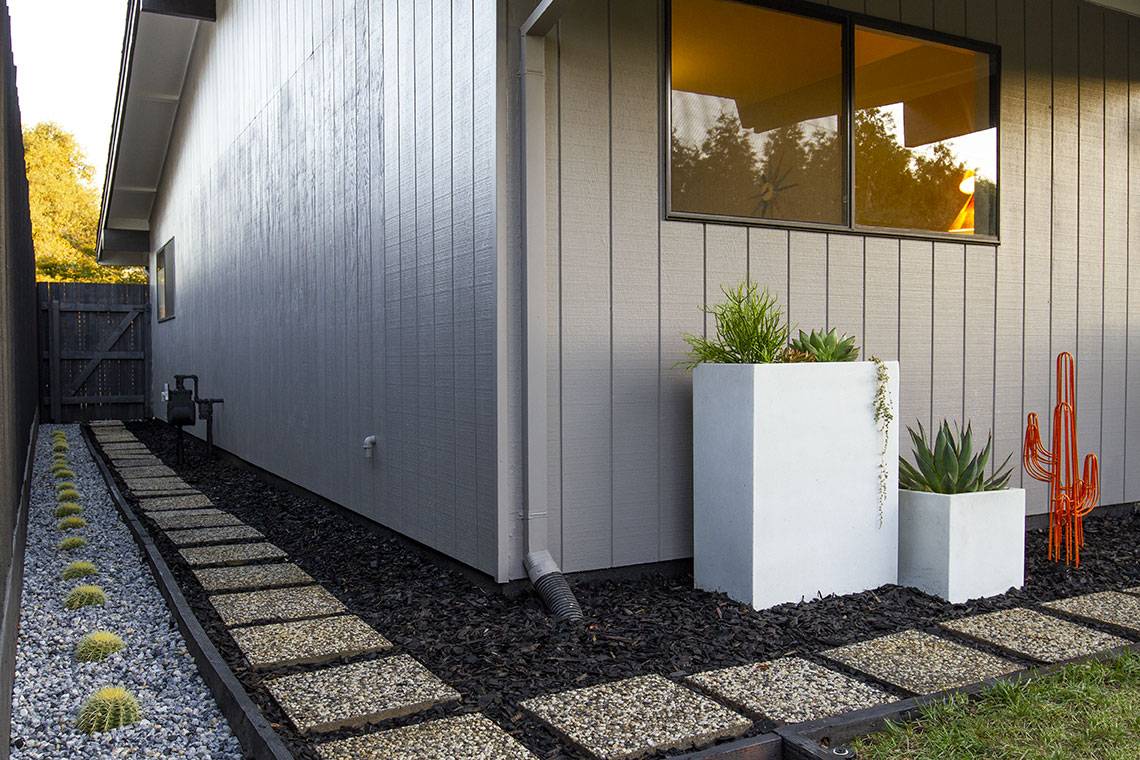 Final Steps
A total of 25 pavers were laid along the side yard with enough left over to create a path to the back patio and front patio. Only a few inches were required between each paver because I had so many to work with.
Once put in place, I filled in with black mulch for continuous flow from the front bed. I also opted to paint the utility meters on the side of the house so they would disappear among the new setting. A little matte black went a long way in sprucing up what would otherwise be an eyesore.
Lastly, I incorporated some color and contrast with architectural planters, succulents and accessories -- providing inviting vignettes as you work your way around the house.
This previously neglected and underutilized area of the house has transformed into a place of form, function and beauty. I couldn't have done this project without my neighbor's generosity, and I'm reminded of her kindness every time I walk down this path. Sending good vibes your way from the side yard as you tackle your own summer projects!