Three Masketeers
The majority of my time is spent in the home office, so I'm always looking for ways to keep this room fun and inspiring. My vintage candy machine is by far the star of the show, but I've been looking to integrate some wall art into the space. I considered framed artwork, but wanted something more unique and possibly sculptural. I knew this would be one of those "I'll know it when I see it" scenarios, so I've been keeping my eyes peeled for a while now.
It was on a recent visit to one of my favorite vintage shops in San Francisco that I found this charming set of 3 viking ships made of solid walnut and brass. All were in pristine shape. I didn't know exactly where they would live, but I knew they were coming home with me.
Around the World [Wide Web]
Wood and brass wall art was common in the '60s/'70s. I recall my grandma having a set of cattails and butterflies in her foyer, and a bundle of brass wheat in one of the bedrooms. I searched each ship for any kind of maker's mark, but nothing was visible. I was on a mission to find out where these remarkable creations came from, so I began my internet search for "vintage wood brass wall art." Curtis Jeré was a popular artist of the time whose refined wall art creations were typically made of metal, and his sculptures came up in the search results. However, these ships were far too playful to be his work. A series of flying ducks filled most of my search results. I recalled seeing a set of these in a few episodes of Mad Men (Herman "Duck" Phillips specifically references them hanging on a wall in his office).
One of the images directed me to an eBay listing for wooden ducks with brass wings with a stamp reading "Masketeers - Belington, WV." Bingo! Searching that mark brought up a variety of creations ranging from mallards to peacocks, seals, sailboats, and yes…viking ships! From what I could find, Masketeers, Inc. manufactured wall art and children's furniture from the early '60s into the '80s. They were known for producing unique, high quality art pieces made of beautiful walnut, teak, and brass.
Delightful Details
One of my favorite aspects of the ships is their use of simplified shapes. Subtle curves of the mast and bow create a water-like wave that give the ships forward motion. The hand cut brass is gently bent outward emulating a gust of wind in the sails, delicately tied to the ship with thin brass wires. Complimentary harlequin/stripe patterns are painted onto the sails, which bring a whimsical feeling that pairs perfectly with my nearby Disneyland figure collection. It's easy to imagine this trio floating through a scene from Fantasyland or Adventureland! All the elements are tied together with clever embellishments of colored plastic disks and brass furniture tacks.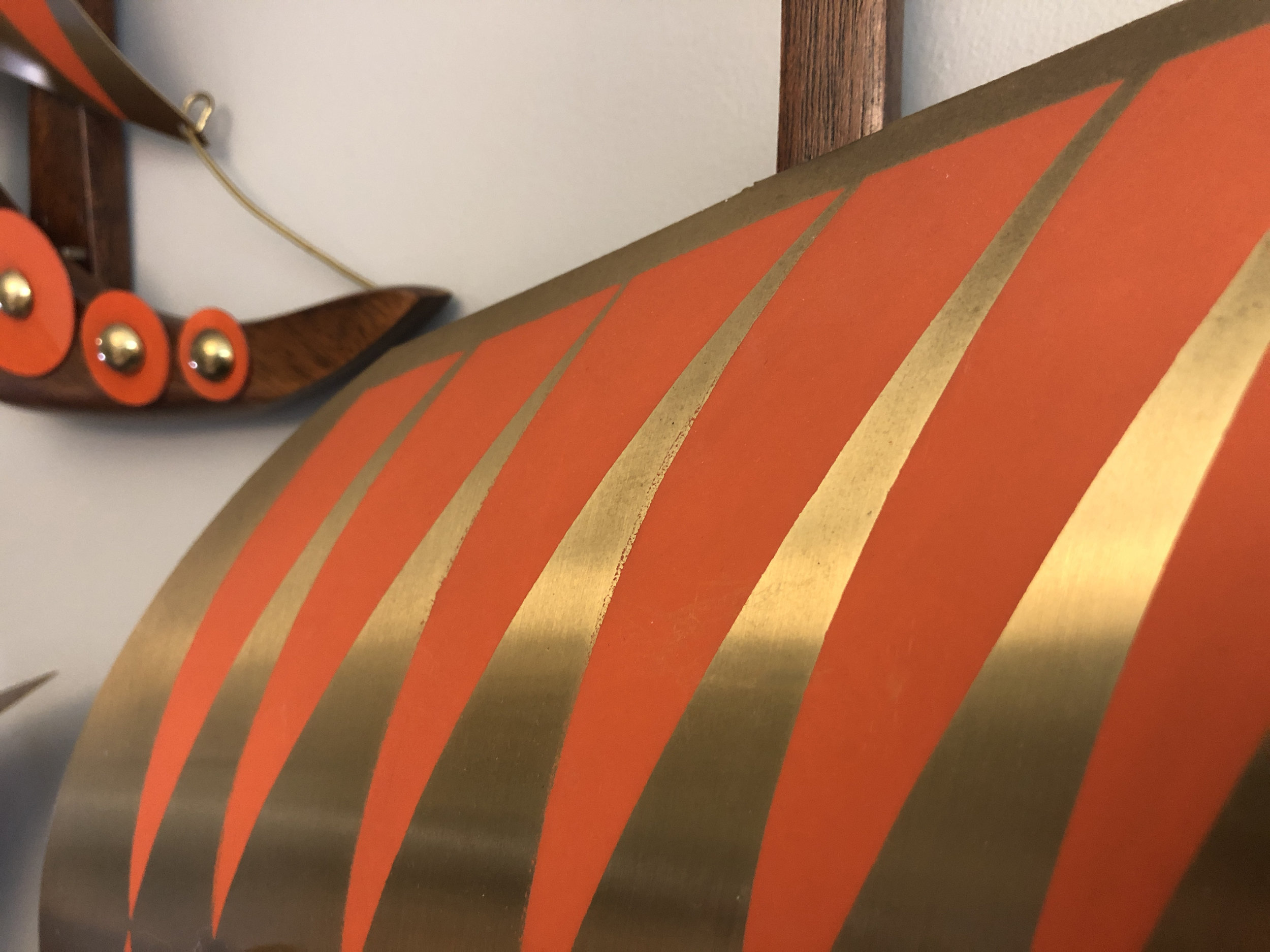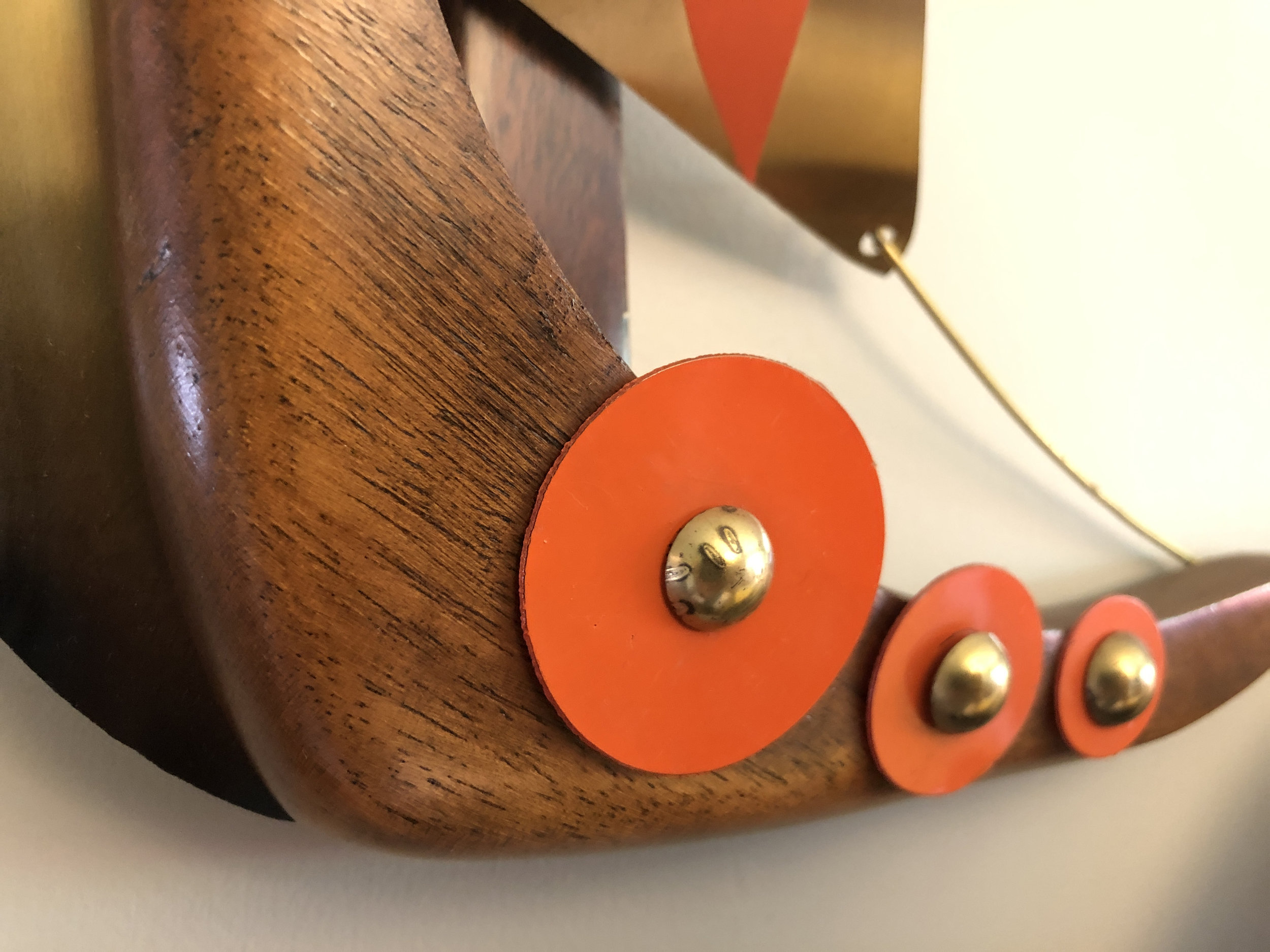 If you're looking to add interest to some of your walls at home, you might consider sculptural wall art for a burst of mid-century flair that's sure to strike a conversation. I venture to guess this fleet was once hanging in a child's room, but it suits my big kid creative space just as well. This decorative addition creates a playful moment that draws you in for adventure, and of course, candy. As I wrap up this blog post, I'm looking at the vintage viking vignette, feeling inspired to set sail into my next home improvement adventure. Renovation ho!