Honoring a Legend
Since acquiring my Streng Bros. home, I had hoped to one day meet the Streng family to personally thank them for the modern vision they brought to Sacramento so many years ago. As we approached fall of 2018, I came to realize that 2019 would mark 60 years since the legendary duo, Bill and Jim, began building modern homes with architect, Carter Sparks.
I had grand visions of a Streng-focused home tour to celebrate their legacy of putting Sacramento on the map as a destination for mid-century modern architecture and design. A significant event needed to be planned to recognize this milestone, so I got to work by reaching out to a fellow modernist and historian, Justin Wood, of the Carter Sparks Archive. We began identifying Streng neighborhoods throughout our region, then selecting homes that stood out for their curb appeal.
Not knowing the owners of these homes, or what was going on inside of them made reaching out pretty interesting, but with about a dozen homes identified, I began contacting homeowners via Instagram to garner interest in possibly participating in a home tour event for the summer of 2019. I'll be the first to admit I was maintaining creeper status, stalking IG users who post about their homes by way of strategic hashtags — #strengbros, #strenghome, #strengbroshomes. Many of my responses were along the lines of, "Umm. Who are you? You want me to do what? I'm not sure about this." I wasn't quite sure how to convince anyone of participating as this was my first endeavor in organizing and participating in a tour as well. However, after 5 months of planning, research, coaxing, and alcohol-fueled get-togethers, I was able to get 6 homeowners (including myself) on-board to join the event on June, 1.
Shaping the Tour
One goal in selecting homes was to represent the variety of elevations offered by the Streng Bros., which included the Classic, Atrium, Transitional, and Two-Story models. One of my favorite aspects of Streng elevations/floorplans is that their designs were so dialed in back in 1960 that they required little-to-no changes all the way into the late '80s. I can't think of a single builder today who is so bold in their convictions to keep plans consistent for a 30-year span. This is proof positive that good design is timeless, and it continues to be celebrated today. To honor the kick-off of the Strengs' collaboration with Carter Sparks, a custom home designed by Sparks in 1959 was also included in the tour line-up.
I reached out SacMod in March to assist with tour logistics and ticketing as they have done similar events in the past. Through their board members, volunteers, and fundraising, we were able organize a truly beautiful event. Previous MCM home tours have primarily been in the Land Park area. However, the Streng Bros. built in the suburbs for their larger lots, and proximity to schools, shopping, and recreation. This is considered the North Area, which spans Sacramento, Carmichael, Fair Oaks and Citrus Heights, so this tour would be a little different. We identified an 18-mile loop for the tour route, which takes about 45 minutes to drive round trip. For many, these are less-traveled areas of town, so putting these iconic neighborhoods on the map as a destination for mid-mod lifestyle was sure to be a treat for our region.
Designing the Details
Over the course of 8 months, Glen and I worked closely with SacMod, homeowners, and local businesses, volunteering 550 hours of our time to branding, design, coordination, advertising, social outreach, sponsorships, photography, and interviews for a home tour like no other. As intended, this event fully celebrated the Streng Bros., the architecture of their wonderful homes, and the people who live in them and love them.
To help navigate the day, Commuter Industries designed a 60-page guidebook full of details about each of the homes as well as historical information about the Streng Bros., their partners, and the neighborhoods in which they built. The guidebook was the passport for the day, filled with maps, interior and exterior photos of each of the tour homes, floorplans and elevations, sponsorships, and special events.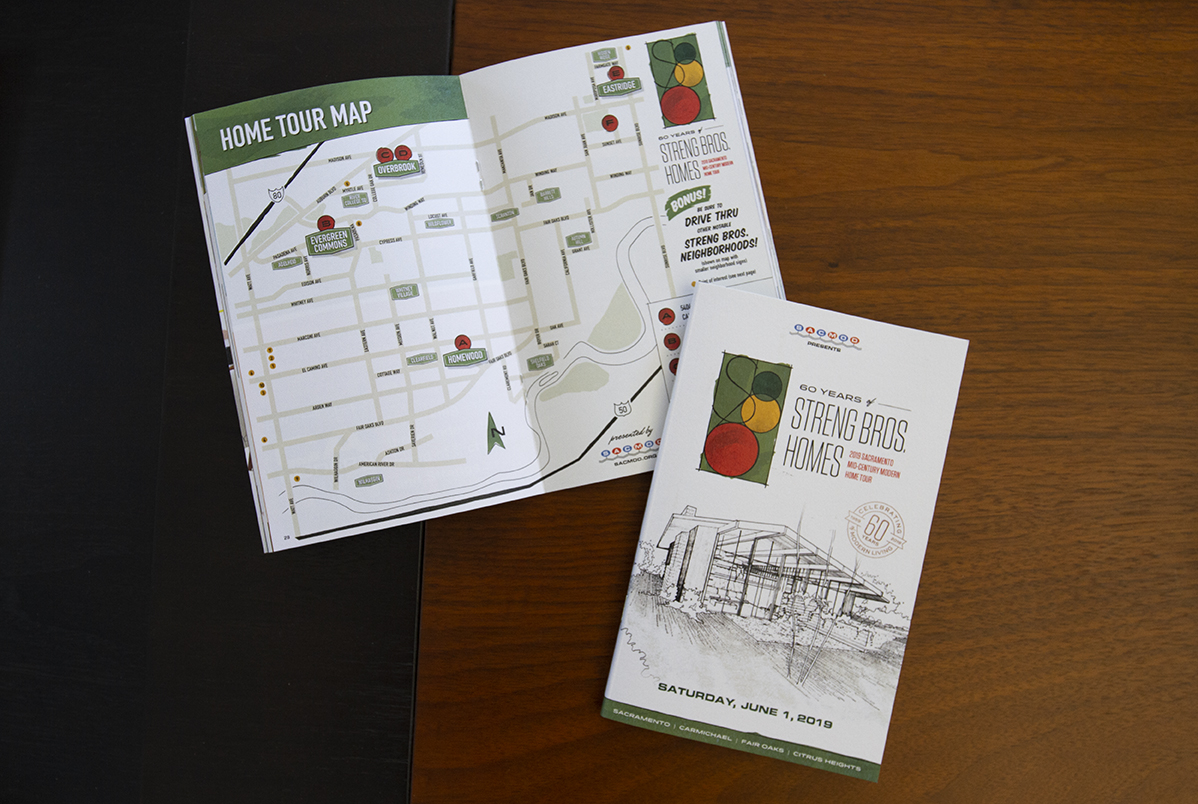 We also developed event signage, including a historical timeline "neighborhood map" that highlighted the Streng Bros. milestone events throughout their lives. From their early beginnings, to meeting Carter Sparks, to the development of over 3,800 homes across the greater Sacramento area, this illustration showcased their 60-year legacy in home building. A presentation board was displayed at my home for guests to enjoy as they were in the entry queue.
To gain community involvement and greater design presence, we approached West Elm Sacramento to sponsor the event by staging the Two-Story home in Evergreen Commons. The entire home was furnished and styled with vintage-inspired, modern finishes, highlighting the unique architecture of this rare elevation. The talented Design Crew of Megan, T'Jae, and Kim did a fantastic job from start to finish, and I'm so grateful for their ongoing outreach and involvement in our communities.
Proper Documentation
Just 2 weeks prior to the tour, I had the honor of sitting down with Jim at my home for a filmed interview. Glen and I worked with D.L. Stern of Roux-Ga-Roux Pictures, Justin Wood, and Travis Pacheco to develop the short film, The Streng Bros. | Modernist Pioneers of the Sacramento Valley. This group effort came together in a matter of days, and offers a glimpse of the wonderful history of the Streng Bros. and Carter Sparks. Jim's sharpness and recollections were inspiring. He had a detailed story to go along with every question, and he seemed to be a natural in front of the camera — calm, cool, collected without the need for retakes. I'm hopeful that we can pick up funding and sponsorships to turn this into a half-hour or one-hour film as there is even more of this remarkable story to tell. For now, take a moment to enjoy this beautiful 9 minute feature.
Sold Out Show
Tour ticket sales capped at 1,000 attendees, and it sold out! This swarm of mid-mod fans descended on Sacramento's North Area with attendance reaching as far as the Bay Area and Reno! Doors opened at 10 AM on June 1, and there were lines going down the sidewalks in each neighborhood. I peered out the door at one point, and had never seen anything quite like it, but I was so inspired by seeing this many people participating. Atomic Ranch Magazine was even on the scene with correspondents from Irvine capturing the day.
A huge thanks goes to the volunteer docents and coordinators for the day. Having these gracious volunteers on-site in our homes and at our doors was a tremendous favor that we couldn't have done without. Many of them traveled far and wide, even out of state to be part of the day and its huge success.
The 6-hour long event was filled with positive remarks and lively conversations from an enthusiastic crowd. Talking non-stop about home improvements, renovations, design, furniture, and fixtures for that long absolutely wrecked my voice, but educating, informing, and making new friends made it all worthwhile. Celebrating with the Streng and Sparks families was the absolute highlight of the tour for me. Jim, you are far too modest about the work you've done. While we do have Carter Sparks to thank for design, it is you and Bill who built these homes, and we recognize you for your exceptional work. For every day I spend in my dream home, I will always be grateful for the legendary brothers who built it.